Is a Britain in Europe better for Muslims?
Wifaqul Ulama Public Affairs (Department)
In the Name of Allah, the Most Gracious, the Most Merciful.
As-salāmu 'alaykum wa-rahmatullāhi wa-barakātuh (Peace, Blessings & Mercy of Allah be upon You).
This statement is being issued on the 18th of June 2016 and supersedes all previous statements on the subject.
Wifaqul Ulama backs Remain:
We have taken the time to analyse some of the "facts" being presented by both sides of the campaign. It is our opinion that Muslims in Britain should utilise their right to vote on the 23rd of June and back the "Remain" campaign. Those who may not have the time to conduct a thorough research on the topic are advised to look at the backers of both campaign. The far right wishes for Europe to become more protectionist and insular but it is in our best interest to be more accommodating, unbiased, unprejudiced and to remain together. We respect the right of others who may disagree with us and back "Brexit", it is their democratic right.
The most frequently used line by the Brexit campaign is that Europe is run by unelected bureaucrats. We found that this claim isn't entirely correct when scrutinised.  The other arguments are addressed in detail by Muhammad Nizami and some of them are summarised by MEND. Friends of Al-Aqsa and Islamicate also agree with the reocmmendation to Remain.
European Islamophobia issues are touched upon by Muhammad Ibrahim.
We are aware of many prominent left figures who are backing Brexit. Nevertheless, it is a campaign dominated by unsavoury figures, fuelled by racist, xenophobic and fascist rhetoric. Nothing personifies the tone of Brexit campaign better than this picture of Nigel Farage: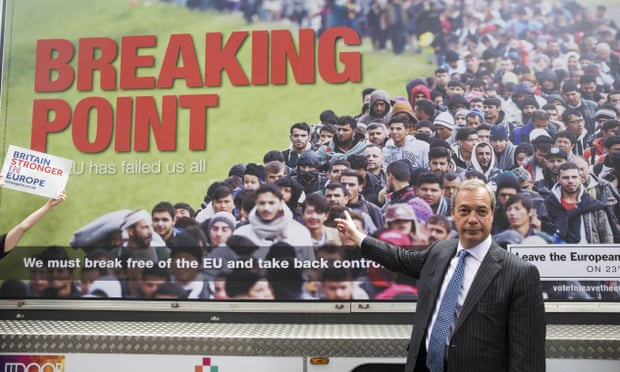 We find this picture racist, disgusting, appalling and shameful.
We accept that there are some legitimate concerns over what Britain pays into Europe and immigration needs to be looked at in this country. However, there is no need to place the blame for everything at the door of immigration.
We firmly believe that to support Brexit is to strengthen the hands of racist, fascist and Islamophobic forces in this country. Britain has travelled a long way and is home to thousands of immigrants who are proud to call it home, we don't want to reverse course drastically and give in to the fascists.
Britain (while being in Europe) has the independence to set its own domestic and foreign policies. We understand the fears of some Muslims about the rising tide of Islamophobia in Europe but we have the right safeguards in place to formulate our own policies.
Thank You