Somalia, Kenya, Ethiopia and South Sudan facing Famine
Wifaqul Ulama Public Affairs (Department)
In the Name of Allah, the Most Gracious, the Most Merciful.
As-salāmu 'alaykum wa-rahmatullāhi wa-barakātuh (Peace, Blessings & Mercy of Allah be upon You).
This statement is being issued on the 18th of March 2017 and supersedes all previous statements on the subject.
Sayyiduna Bilal (RA) was the caller of Prayer for Prophet Muhammad (Peace be upon Him) but today the children of his land are calling for your help. His footsteps were heard in paradise, today your footsteps can reach paradise if you answer the call of his land.
---
Sayyiduna Abu Huraira (RA) reported that Allah's Messenger (Peace be upon Him) said to Bilal: "Bilal, tell me which act you did at the time of the morning prayer for which you hope to receive good reward, for I heard during the night the sound of your footsteps before me in Paradise?" Bilal (RA) replied: "I did not do any act in Islam for which I hope to get any benefit, but this, that when I perform complete ablution during the night or day I observe prayer with that purification, what Allah has ordained for me to pray." [Sahih Muslim]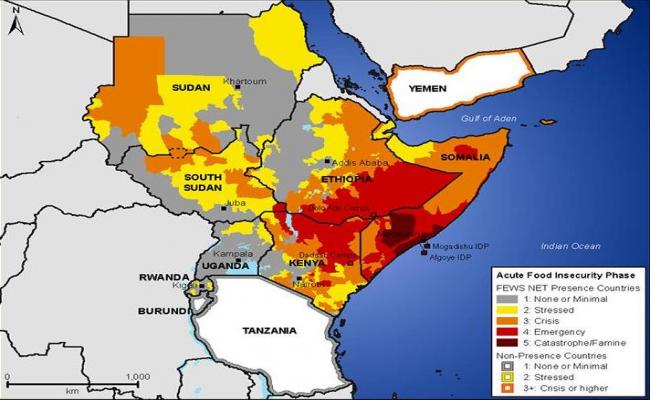 East Africa is currently suffering from a drought, war, and lack of food. More than 880,000 children are severely malnourished and desperately need life-saving supplies. Without this help, one in five of these children could die.The burden of the food crisis has proven to be affecting the children especially hard.
What is a Famine?
When a famine is declared, it is estimated that four children out of every 10,000 die every day because of a lack of food. Famine has been declared in parts of South Sudan, where more than 270,000 children are already suffering from severe malnutrition, and Somalia is also on the brink of famine. We must act now to save as many lives as possible.
Children in Ethiopia, Kenya and Uganda are also facing severe food shortages, with more than 3 million children struggling to survive. Without enough food and clean water, children's lives are in extreme danger – we need your help.
After 20 years of civil war Somalia is one of the poorest and most dangerous countries in the world. One in five children die before their 5th birthday.
What can you do spiritually?
As Muslims, our first reaction in any situation should be to reflect upon our actions and to turn to Allah Ta'ala to beseech Him for his assistance and help. We urge all Muslims in Britain to make sincere Dua for the people in East Africa.
We also ask you to encourage your friends, family, and community to turn to Allah Ta'ala.
Give Sadaqah in addition to your Duas to invite the Mercy of Allah Ta'ala.
Change your life for the better and do your best to come closer to Allah Ta'ala by fulfilling His commandments and following the Sunnah of Prophet Muhammad (Peace be upon Him).
What can you do financially?
There are several Muslim charities which are engaged in relief effort in East Africa and you can choose to contribute to the charity of your choice. Here are two examples:
Al-Imdaad Foundation: Al-Imdaad were also featured in Somalia Media. Their campaign is called "The Lands of Bilaal (RA)".
Ummah Welfare Trust: Their campaign is called "Africa Drought Appeal"
What can you do politically?
Engage Nicola Sturgeon (First Minister of Scotland)
Scottish Government has pledged to donate £200,000 to East Africa. Send a note of gratitude to Nicola Sturgeon (First Minister of Scotland)
Write a letter, (see sample text below)

Email to firstminister@gov.scot
Dear Nicola Sturgeon (First Minister of Scotland),

I am writing to you because I appreciate your efforts in raising awareness about the plight of East Africans, and also your pledge of £200,000 which will help to improve so many lives.

I am genuinely touched by the warmth and generosity of the Scottish people. However, as you are well aware, there is a lot more that needs to be done to ensure that no more lives are lost.

I urge you to press the British Government to do more for East Africa. This desperate situation calls not for rhetoric but tangible help.

I have trust in the warmth and generosity of the British people who have always come forward to assist those in need around the world. I am proud of this country and its glorious tradition of helping others.

I urge you to continue to press for this issue in Parliament. Also, I express my wish for you to convey my position to ALL members of Parliament. Furthermore, I wish that you convey my position to the Foreign Secretary, the Rt. Hon Boris Johnson MP and to our Honourable Prime Minister Theresa May.

Your help and cooperation in this matter will be greatly appreciated. If you have any further questions please feel free to contact me.

Thank You,

Yours sincerely,

Your Name
Write a letter, (see sample text below)

Read it and get it proofread.

Copy your letter (or copy it from our text below).

Click on this link, enter your postcode and click "Go"

Paste your letter into the text, complete the rest with your name and contact details.

Click "Preview and Send"

Check that everything is correct.

Click on "I am happy, send it".
I am writing to you as a humanitarian who is deeply concerned by the famine in East Africa and its impact on the children, who are dying in their droves due to hunger and malnutrition.

You may be aware of the pledge made by the Scottish Government to donate £200,000. I believe that they should be commended for their efforts, and that the British Government should emulate this example and provide more aid for those in desperate need.

I urge you to press the British Government to do more for East Africa. Not just words but actual and tangible help to those who are the worst affected by this famine.

I have trust in the warmth and generosity of the British people who always come forward and assist those in need around the world. I am proud of this country and proud of its glorious tradition of helping others.

I urge you to continue to press for this issue in Parliament. Also, I express my wish for you to convey my position to ALL members of Parliament. Furthermore, I wish that you convey my position to the Foreign Secretary, the Rt. Hon Boris Johnson MP and to our Honourable Prime Minister Theresa May.

Your help and cooperation in this matter will be greatly appreciated. If you have any further questions please feel free to contact me.

Thank You,

Yours sincerely

Your Name
Engage Rt. Hon Boris Johnson

MP
Dear  Rt. Hon Boris Johnson,

I am writing to you as a humanitarian who is deeply concerned by the famine in East Africa and its impact on the children, who are dying in their droves due to hunger and malnutrition.

You may be aware of the pledge made by the Scottish Government to donate £200,000. I believe that they should be commended for their efforts, and that the British Government should emulate this example and provide more aid for those in desperate need.

I urge you to press the British Government to do more for East Africa. Not just words but actual and tangible help to those who are the worst affected by this famine.

I have trust in the warmth and generosity of the British people who always come forward and assist those in need around the world. I am proud of this country and proud of its glorious tradition of helping others.

I urge you to continue to press for this issue in Parliament. Also, I express my wish for you to convey my position to ALL members of Parliament. Furthermore, I wish that you convey my position to the to our Honourable Prime Minister Theresa May.

Your help and cooperation in this matter will be greatly appreciated. If you have any further questions please feel free to contact me.

Thank You,

Yours sincerely,

Your Name