Is a Britain in Europe better for Muslims?
Wifaqul Ulama Public Affairs (Department)
In the Name of Allah, the Most Gra­cious, the Most Merciful.
As-salā­mu 'alaykum wa-rah­mat­ul­lāhi wa-barakā­tuh (Peace, Bless­ings & Mer­cy of Allah be upon You).
This state­ment is being issued on the 18th of June 2016 and super­sedes all pre­vi­ous state­ments on the subject.
Wifaqul Ulama backs Remain:
We have tak­en the time to analyse some of the "facts" being pre­sent­ed by both sides of the cam­paign. It is our opin­ion that Mus­lims in Britain should utilise their right to vote on the 23rd of June and back the "Remain" cam­paign. Those who may not have the time to con­duct a thor­ough research on the top­ic are advised to look at the back­ers of both cam­paign. The far right wish­es for Europe to become more pro­tec­tion­ist and insu­lar but it is in our best inter­est to be more accom­mo­dat­ing, unbi­ased, unprej­u­diced and to remain togeth­er. We respect the right of oth­ers who may dis­agree with us and back "Brex­it", it is their demo­c­ra­t­ic right.
The most fre­quent­ly used line by the Brex­it cam­paign is that Europe is run by unelect­ed bureau­crats. We found that this claim isn't entire­ly cor­rect when scru­ti­nised. The oth­er argu­ments are addressed in detail by Muham­mad Niza­mi and some of them are sum­marised by MEND. Friends of Al-Aqsa and Islam­i­cate also agree with the reocm­men­da­tion to Remain.
Euro­pean Islam­o­pho­bia issues are touched upon by Muham­mad Ibrahim.
We are aware of many promi­nent left fig­ures who are back­ing Brex­it. Nev­er­the­less, it is a cam­paign dom­i­nat­ed by unsavoury fig­ures, fuelled by racist, xeno­pho­bic and fas­cist rhetoric. Noth­ing per­son­i­fies the tone of Brex­it cam­paign bet­ter than this pic­ture of Nigel Farage: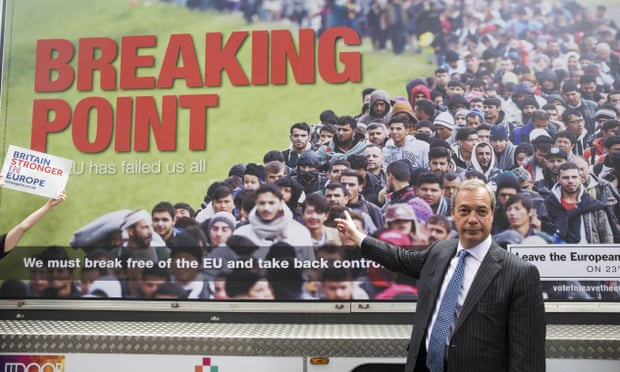 We find this pic­ture racist, dis­gust­ing, appalling and shameful.
We accept that there are some legit­i­mate con­cerns over what Britain pays into Europe and immi­gra­tion needs to be looked at in this coun­try. How­ev­er, there is no need to place the blame for every­thing at the door of immigration.
We firm­ly believe that to sup­port Brex­it is to strength­en the hands of racist, fas­cist and Islam­o­pho­bic forces in this coun­try. Britain has trav­elled a long way and is home to thou­sands of immi­grants who are proud to call it home, we don't want to reverse course dras­ti­cal­ly and give in to the fascists.
Britain (while being in Europe) has the inde­pen­dence to set its own domes­tic and for­eign poli­cies. We under­stand the fears of some Mus­lims about the ris­ing tide of Islam­o­pho­bia in Europe but we have the right safe­guards in place to for­mu­late our own policies.
Thank You