Crescent Chasers
Com­plete this form and reg­is­ter as a "Cres­cent Chas­er". This is to facil­i­tate local Moon­sight­ing. When the Moon is sight­ed, all your details are already avail­able to us and you have been pre-vet­ted. It makes your sight­ing a lot to sim­pler to ver­i­fy for the Scholars.
In the event of sighting, send in your Name

&

Crescent Chaser

ID

and the details of your sighting. Your sighting details must include date, time of the sighting and orientation of the crescent. It is better to send us a photograph but it is not a requirement. You only need to contact us when sighting the crescent on the 29th of the Islamic month. Sighting on any other days do not need verification.
Become a member:
Please com­plete the form below.
---
Moonsighting Tips

&

Tricks
Read this first:
Moon­set: There is no equip­ment which can be used to sight the Moon once it's set, its gone! Sim­i­lar­ly Moon can­not be sight­ed a few min­utes after sun­set. Make sure to look at moon­set and ensure that there is suf­fi­cient lag­time (moon­set – sun­set) for you to able to sight the cres­cent. This is because the cres­cent is thin and bare­ly lit while the sun­light is bright and the thin cres­cent can­not be seen in the pres­ence of (bright) sun­light. Let us make this impor­tant point again. There is no fil­ter, no binoc­u­lar, no tele­scope which will let you sight the Moon which sets 2,4, or 6 min­utes after sun­set, its impos­si­ble! Moon has to be in the sky for you to sight it.

Sun: Do not look at the sun direct­ly with your eyes or with your binoc­u­lars, cam­era or tele­scopes with­out an appro­pri­ate solar fil­ter. Your tele­scope and

DSLR

cam­era can heat up and be dam­aged with­in min­utes if you try to focus on the sun. Put a solar fil­ter in front of your (auto­mat­ic) tele­scope or binoc­u­lars and then track the sun as it sets to get ready to sight the crescent.

Moon: It is eas­i­ly vis­i­ble in the sky if the hori­zons are clear. You do not need to dri­ve hun­dreds of miles for moon­sight­ing, a good van­tage point such as the roof of the Mosque is sufficient.

Azimuth: You need to know the Azimuth of the Moon at a giv­en time. You can watch the video below and obtain the exact loca­tion of the Moon. Azimuth is the direc­tion of the Moon.

Human Eye:
The human eye is great bless­ing and mar­vel of Allah's cre­ation. How­ev­er as we age the size of the pupil (which varies) between peo­ple gets even small­er. Our pupil is at its best between the ages of 21–29 (on aver­age) and it is (approx­i­mate­ly) 7.0 mm in aver­age humans, keep this fig­ure in mind.
Human eye has remained the same in thou­sands of years but (light) pol­lu­tion has increased tremen­dous­ly in our sur­round­ings. The sci­en­tif­ic advance­ments are in opti­cal Aids and mag­ni­fi­ca­tion so here is a sum­ma­ry of tools which you can use to assist you in sight­ing of the crescent.
No Technology (easy) sighting:
You need to pre­pare for sight­ing of the cres­cent before sun­set. Select your loca­tion with an excel­lent van­tage point and get to the loca­tion before sun­set. You need to observe the sun­set and record the loca­tion. Cres­cent is vis­i­ble in the same (approx­i­mate) area of sun­set (to the right or left). Remem­ber that after moon­set, the cres­cent is no longer on the hori­zon to be seen.
Your eyes need to get used to the sur­round­ings and air tem­per­a­ture and it takes about 15–20 min­utes for your eyes to adjust.
Software/Apps:
You need the fol­low­ing tools to be able to track the posi­ton of the cres­cent, some of these apps are avail­able on Android while oth­ers on Apple. You need to use them well before you actu­al­ly try to sight the cres­cent to get used to how they func­tion. Your phone (or device) needs to have the right hard­ware, for exam­ple take a look at the com­par­i­son between a LG G6 and Moto G5S Plus. Moto G5S Plus does not have a com­pass which severe­ly lim­its the use of this phone with some of the apps giv­en below.
Binoculars:
Binoc­u­lars are a bet­ter choice for Moon­sight­ing because binoc­u­lars are cheap, easy to set­up and robust. Tele­scopes due to their mag­ni­fi­ca­tion, make the field of view small­er. You need to under­stand that as the mag­ni­fi­ca­tion increas­es, the field of view decreas­es. It is because things are get­ting big­ger so you have less area which you can look at and binoc­u­lars are an excel­lent choice for sight­ing the cres­cent, keep these spec­i­fi­ca­tion in mind and buy a binoc­u­lar with:
Ful­ly Coat­ed/­Mul­ti-coat­ed/­Ful­ly Mul­ti-coat­ed: This is the anti-reflec­tive coat­ing on your binoc­u­lar and buy the best coat­ing your mon­ey can buy. There is no uni­ver­sal def­i­n­i­tion of coat­ing but check to see that you have full coat­ing (at least).
Por­ro Prism: Pur­chase the binoc­u­lars with Por­ro prims instead of Roof prism for Moonsighting.

BaK4

: Pur­chase the binoc­u­lars with BaK4 instead of

BK7

for Moonsighting.
Stay away from cheap Ebay/no-name binoculars even if they claim to have all of these features! The Celestron SkyMaster (15 x 70 or 25 x 70 or 20 x 100) are excellent choices for your needs. You need to keep in mind that all of these The

Celestron SkyMaster (15 x 70 or 25 x 70 or 20 x 100)

are heavy and your hands will get tired very quickly. Your hands will also shake so buy a cheaper SkyMaster (binocular) which is lighter or if you choose to buy a more expensive model, buy a tripod stand (with an L adaptor). Leave your binoculars out in the open with all caps taken off for 15–20 minutes before you begin to sight because the lens needs to get used to the temperature of the air and surroundings.
Tripod:
Get a used Tri­pod from Ebay. As a rule of thumb, your tri­pod should be able to hold twice the weight of the binoc­u­lar. Do not buy cheap new tripods, a used tri­pod should cost you no more than £20. Two base mod­els which are ide­al for your binoc­u­lars are and cheap­ly avail­able on Ebay are:

Jes­sops Atlantic 322

Jes­sops

TR120
This is a pic­ture of an ide­al setup: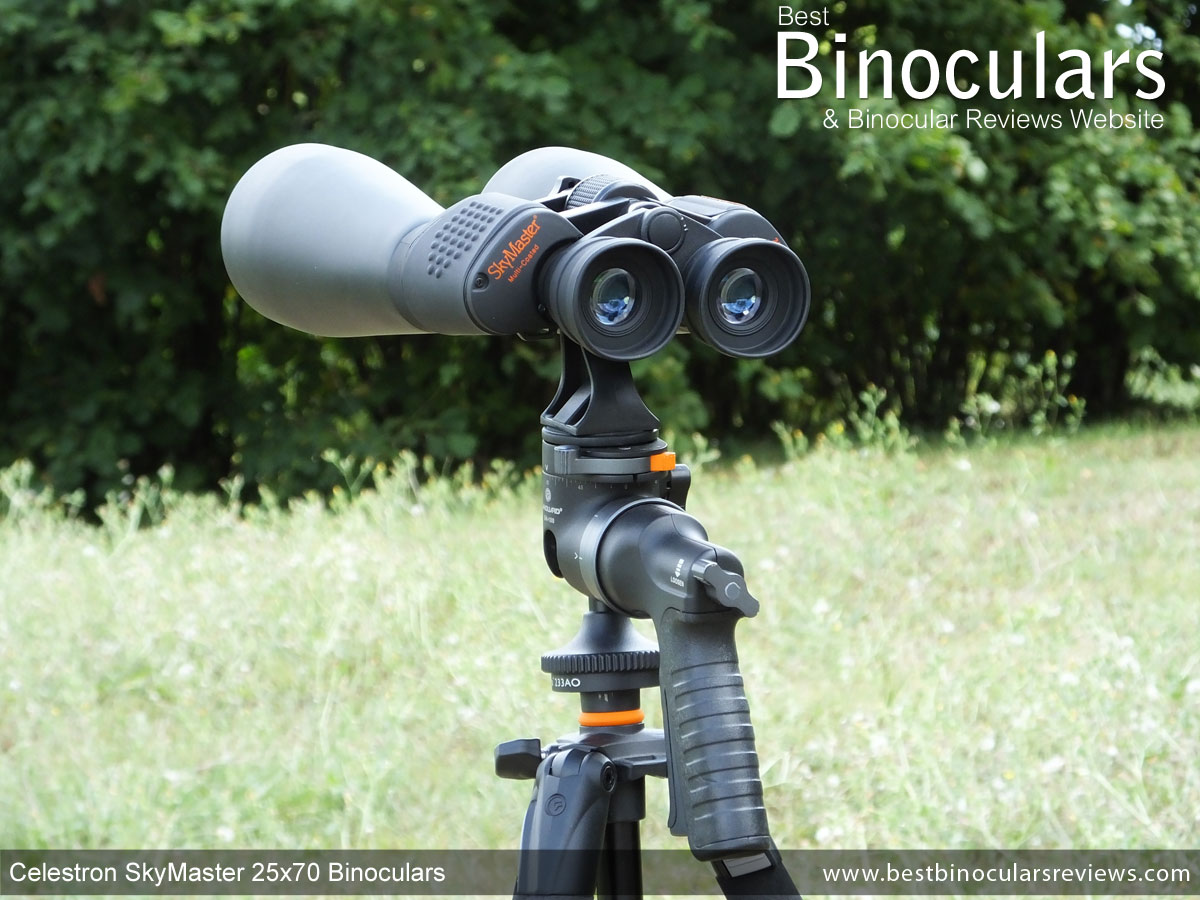 Manual Telescope:
SKY WATCHER SKYLINER 200P is an excel­lent Tele­scope and you can buy a used one (on Ebay) for under £100.00. It is man­u­al and you will need to build a plat­form to raise it high­er as it will be low and your back will get tired. The Tele­scope comes with a tri­pod and you can eas­i­ly move it around to focus on the right areas.

This is SKY WATCHER SKYLINER 200p: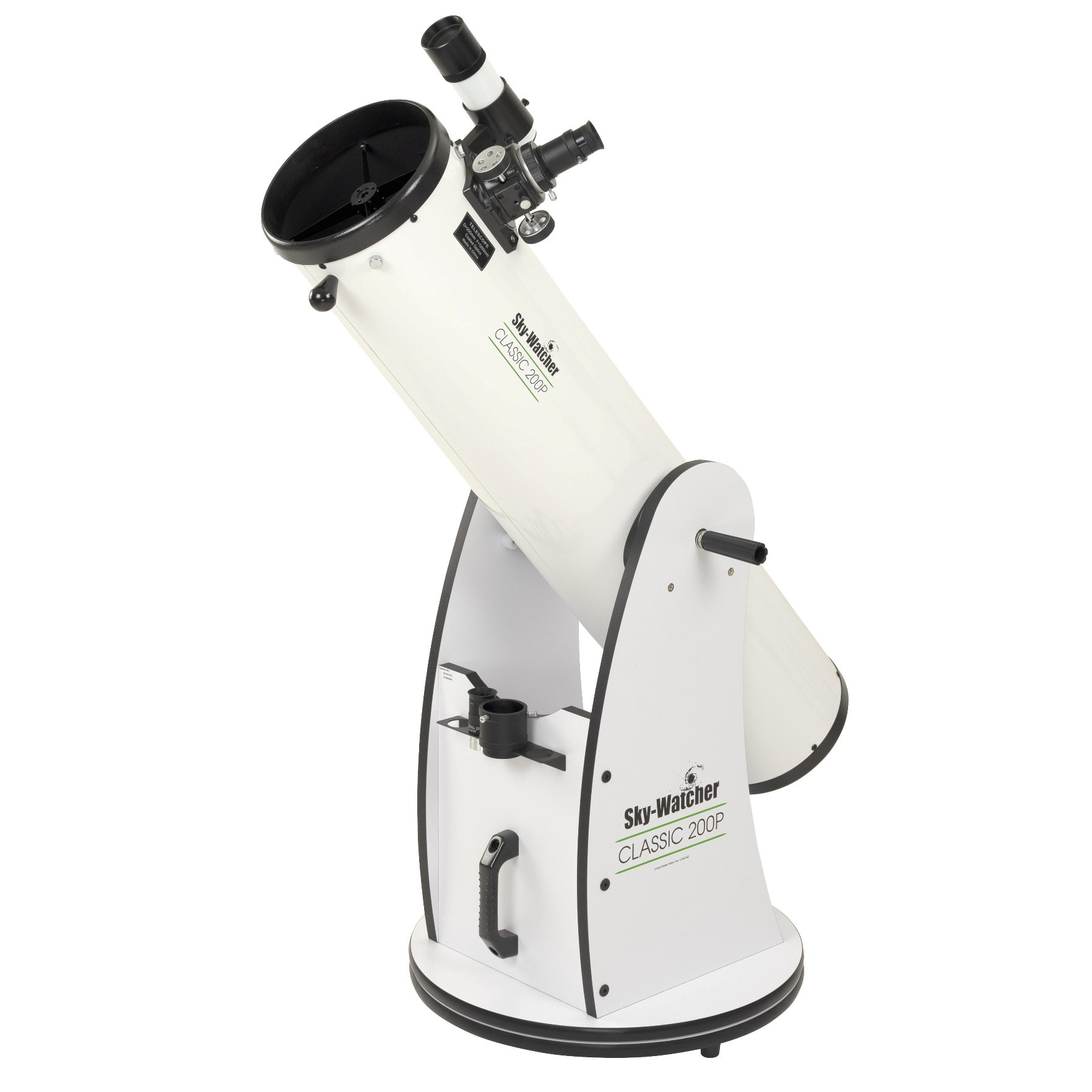 Computerised Telescope:
The big­ger the tube of the Tele­scope, the more light it lets in and you will get bet­ter vision. These Tele­scope have a GPS and a data­base and they will auto­mat­i­cal­ly move and focus on an object once you have them prop­er­ly aligned.
Stay away from cheap Ebay/no-name telescope even if they claim to have all of great features!The best for Moonsighting (at budget prices) is Celestron 11049 NexStar 4

SE

and more than sufficient for your needs. 5

SE

, 6

SE

and 8

SE

are 5 inch, 6 inch and 8 inch tubes are more expensive but the electronics are the same. Leave your telescope out in the open with all caps taken off for 15–20 minutes before you begin to sight because the lens needs to get used to the temperature of the air and surroundings.
This is Cele­stron 11049 NexS­tar 4 SE:
DSLR

Photography:
Your phone has a good enough Cam­era to take a pic­ture but it may not be good enough for low-light con­di­tions. Hold your phone against the lens and take a picture.

You can buy a Nikon (D3400) or Canon EOS Rebel T7 / Canon EOS 2000D with a stan­dard lens and it will con­nect to the back of your tele­scope via an adap­tor (which you need to buy separately).
This is a Nikon (D3400) with a stan­dard lens:
This is a Canon EOS Rebel T7 with a stan­dard lens:
Tethering:
Your DSLR Cam­era can con­nect to a lap­top using a stan­dard HDMI cable. This means that you can look at the images on a huge screen instead of through a small eye­piece. You can also zoom your images etc.

This is a Cam­era attached to a Cele­stron 11049 NexS­tar 4 SE. Cam­era can then be con­nect­ed to your lap­top using a USB or HDMI cable: